Improve SEO Using These Social Media Tips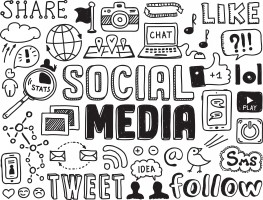 Today, social media is one of the most prevalent forces on the Internet. It seems as if everyone has at least one social media account whether it is through Facebook, Twitter, or Instagram. With so many people gathering on these sites, it is no wonder that businesses have looked for ways to get their attention. Both SEO and social media are organic strategies that have the potential to help bring visitors to your site, and they can work very well together.
If you want to boost your SEO, there are several things you can do via social media that can help. They may take some time, but putting in the effort can be well worth it in the end. Let's look at the ways you can get started.
Increase the Number of Inbound Links from External Sites
Social media is a fantastic way to get more links from external sites and into your site. When you have these additional links, it can provide you with more authority in the eyes of the big search engines, such as Google. As long as you have great content, it should not be too difficult to get these links, but it will take time.
You need to think of your social media outlets as a way to let people know about that content, and to make it as easy as possible for them to link to the content from their social media profiles and from their sites. Post on your social media accounts whenever you have new content up for people to consume, and utilize hashtags on all of the social media platforms. This can make the content easier to find.
Increase Your Followers
The more followers you have on your social media accounts the better. It means there is a much greater chance of getting people to click on your content and to share the content that you provide.
Just as with most other types of organic efforts, you will find that it tends to take time to grow your followers. Because it is slow going, there is always the temptation to take the easy way out and to buy followers rather than growing them naturally. However, this is a massive mistake. You need to cultivate the right followers, people who actually have an interest in your business and who want to know more about what you have to offer. If you were to buy followers, it would artificially inflate your numbers. The follower count might be high, but it will not mean anything.
When you post great content on your social media sites, the followers will come. You need to be consistent, and you need to remember that social sites should be social. This means you should engage with followers. When they have questions or make comments, reply to them as often as you can.
Quality Posts
Merely posting links that head back to your website or blog will not do you any favors on social media. People need to have a reason to click on that link. Even if you have great content on your site, there needs to be a reason for them to engage. The post needs to have a good intro or title that provides enough information to indicate whether or not your content will apply to readers' needs. Utilize keywords in the text of the post naturally, and consider using hashtags – remember, it makes things easier to find on social media.
Ask for Social Shares
The way to really get your content on social media (beyond your own posts) is to request that people share the content. Many people are more than willing to share the post on their social media as long as the content is quality and they feel it will appeal to people in their circle.
In addition to merely asking for a share, you might want to incentivize it in some way, at least with some of your posts. You could have a contest, for example, and when people like and share posts on your social media accounts, they could be given an entry to win. Keep in mind that the rules for contests can vary with different social sites, and they are subject to change. Check the latest rules before you use this technique, just to be sure it does not violate the terms of the site.
Consider Local Optimization
When you optimize a post for the local area, such as where your business is located, or an event you are going to attend, it can help to increase interest in that specific area. You can also take photos of the event or the locale, and tag them to increase local penetration. This could work well for conventions and tradeshows, for example.
A Great Experience
Overall, your goal should be to provide your followers and fans on your social media sites with the best possible experience overall. Great content, consistent posts to social media, and engaging with the followers can provide you with a growing crowd of people who believe in your company and your brand. When you provide people with a good experience, they are far more likely to share your content and let others know.
Do not make the mistake of ignoring social media or of not using it to its full potential. It is the watercooler of the modern era, and with hundreds of millions of people on these sites, it is the perfect place to invest some of your time to help improve your SEO, as well as your content marketing. If you feel as if social media is taking up too much of your time, or that you are not as effective as you hope on these sites, you might want to consider hiring someone to help you.
You want a strong website and great content that helps to boost your SEO. In addition to using social media, you can use Umbrella's CMS blog extension and the integration with WebTextTool.com.