Improve Content Marketing With Facebook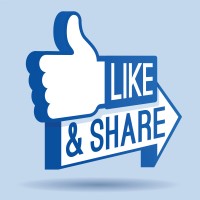 Having great content on your website is only half the battle. You also need to make sure that you have the ability to get that content out and in front of people who actually want to consume it. Thankfully, the social media powerhouse of Facebook can help with this immensely. You can improve your overall marketing strategy when you start to use Facebook the right way. It is an ideal option to help promote your business and improve your online reputation.
In addition, you will find that Facebook tends to be one of the more cost-effective ways to improve your content marketing. Here are some of the best ways to use Facebook to your advantage. Best of all, many of these are free.
You Need Followers
If you do not have a large number of followers, you will find that Facebook is not going to do you much good at all. It is only truly effective when you have a large number of followers. However, this does not mean that you should purchase followers. You want to grow your followers organically because they will then be people who actually care about your brand and your business. The fake followers are not going to interact with your content, so do not waste your money trying to buy likes and follows.
Blogging on Facebook
You will want to keep most of your blog posts on your own site. However, you will find that it is a good idea to occasionally post a blog to your Facebook page, as well. They provide you with the ability to blog right on your page, which increases the likelihood that your followers will see it. Not only will they be able to see and engage with that content, but it can encourage people to visit your full site, as well. If they like the content, there is a good chance that they will want more of the content and go to your site. In addition, they are more likely to share the content that they find.
If you do not want to post a full blog on the site, you do not have to. You can provide the title and the first paragraph, and then post that along with a link to your full site. This can act as a teaser that will get them to click on the link. Just make sure that you have a good title and an intriguing description or preview that will make them want to keep reading.
Different Types of Content
While your written content might be the cornerstone of your content marketing, it should not be the only thing that you put up on your Facebook page. You should also consider some of the other types of content that you can post, especially images and videos. People love visual content, and they often provide more engagement and better results. You can post content that you have put up on Instagram or YouTube, for example.
While these can do well when you post them to your site, you will find that they can do even better when you also happen to promote those posts, or boost them to reach more people.
Content from Other Sources
While you might be pushing your own content much of the time on your Facebook page, you still want to walk a fine line. You should not have all of your posts be thinly veiled advertisements that market to the followers. They will not like that and they may even stop following you. Therefore, you need to mix up your content a bit and include items from other sources, such as news that is in your niche.
Keep in mind that the content should generally have some relation to your niche, even it if might be tenuous. What you do not want to do is post content that is too controversial and that is not related to your field. This has the potential to alienate some of your followers.
Communicate With People on Facebook
People who are following you on your Facebook page will often want to communicate with you by commenting on your posts. You want to build a sense of community, so make sure that you are communicating with them as much as possible. Eventually, this might be difficult with a growing number of followers, but do the best you can. Always try to answer questions and take care of any problems before they escalate.
Use Facebook Ads
If you want to put your company and site's content in front of as many people as possible, you might want to purchase Facebook ads. They are low cost, and you can tailor your ads to target a specific audience. Many choose to promote certain posts that have already done well with their own audience. They feel that it will resonate with others, and they might get more followers, or at least some interaction from the people who see their Facebook ad.
Facebook also makes it easy to do split testing, so you can see which of your ads do the best. This will give you an idea of the type of content that you should post and advertise in the future.
Utilize Facebook Insights
Facebook also offers Insights and Audience Insights, which can give you a wealth of information on the audience you are reaching. You can learn about their general age, location, gender, interests, and more. This information is very valuable, as it will allow you to either create content geared directly toward that audience, or change your content to reach the audience that you feel is ideal.
Facebook is still a fantastic tool. Make sure you are using it properly and making the most out of your Facebook page.
A quality website is the anchor to which you affix your content marketing and improve your SEO. With Umbrella, you will have a quality site, and with the CMS tool and WebTextTool.com integration, you will find it's easy to improve your content marketing.