Unique Ideas for Marketing Your Business Locally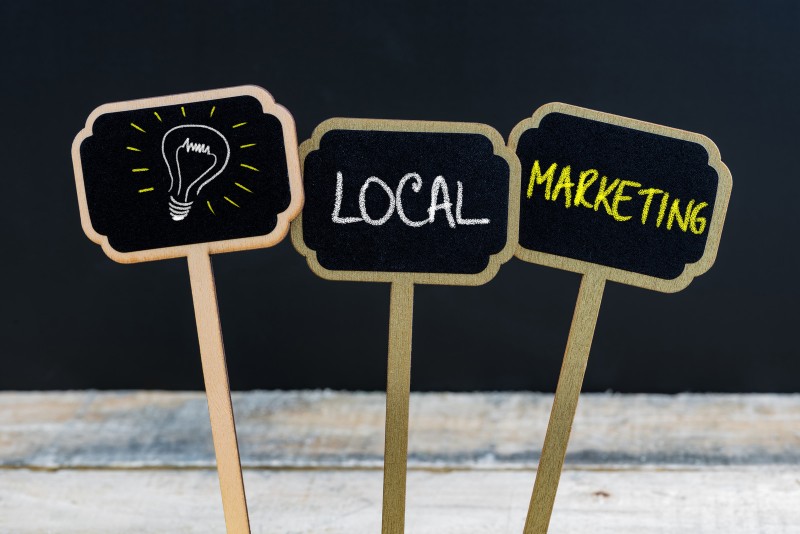 Looking for some interesting ways to market your business in the local area? Having a strong marketing strategy is a great way to be competitive and stand up to the big chains and franchises in the area. Being creative with that marketing can go a long way toward building your brand and reputation in the area.
So, what are some unique ways to market yourself that others aren't? We have quite a few and some of them are sure to resonate with your company and style of marketing.
Use Images of Your Business in Advertisements
When you use your business location in your advertisements, you can tie together both your online and real-world environments. Someone who drives by your location on the way to work each day, who then sees an advertisement showing that location, may have their interest piqued and check out your page. That could lead to a new customer or fan.
List Directions on Your Website
Nearly everyone has a page on their site explaining where the location is and how to get there. If you want to see how this leads to conversion, the process is simple. All you do is set up your directions page as a destination URL goal in your Google Analytics account. Then, you can check out this data and see the result of various campaigns. For instance, you could spend $100 on advertisements one month and $200 another and see how much that leads to revenue growth.
Mobile Emailed Coupons
It can be hard to track offline conversion rates, something every business struggles with. A great way to handle this is through emailed coupons. These coupons go to the customer through email. When they get to your location, they show the coupon on their phone and go ahead with their purchase. This is a great way to track conversion and execution.
Correct Yelp Categories
Yelp is important, and ensuring your business is listed in the right category is crucial. Why? Because when advertising on Yelp your ads show up based on what categories are chosen. Sometimes someone who is searching for a specific service will type that in a search engine and Yelp often pops up near the top of the results. If you're listed as providing the service they need, there's a better chance that person will check out your website.
Remarketing for Reviews
Sometimes a customer loves what you're doing but doesn't think to leave you a review. As time goes on, it's even less likely that they will consider it unless something reminds them. You can be that something that reminds them to stop in and post a review. If you already have a confirmation page when people fill out something that is linked to Google Analytics, you can add a tracking code to the confirmation page and set up a list that tags who visits the URL. Something simple that reminds your customers to leave a review can go a long way.
Local Activity Advertisements
Talking about your business is, of course, important but so is talking about things that your fans and customers enjoy. This is especially useful in the local market because you can make content about events and locations nearby. Let's say you own a business that delivers prescription medications. Let's further say that the local hospital sometimes runs events that encourage locals to be aware of their health.
You can then cover that event, which is important and people will appreciate, yet keep the content in your wheelhouse. People who may not follow you could see this article and choose to visit your social media page or website. You may end up with all new customers who never would have known about you before. You show you care about the community and want others to succeed.
Neighborhood Facebook Ads
Facebook ads can lead to local SEO bumps, as Google and other search engines do pay attention to these things. By having ads for the local area, your name is going to be out there. If people know you on Facebook as the pharmacy delivery experts, that will stay there. This may lead to situations where a friend or family member has a need which you can fill and your name immediately comes to mind.
Implement Call-Only Ads
If you make money driving sales through phone calls, a call-only ad can be a great option for your business. For those who don't have a full ad team or custom landing pages, call-only ads allow you to advertise exactly what you want, and the customer to give you a call. Of course, this does mean having great ad copy that clearly explains who you are and what you do to ensure the calls you get are useful for the both of you.
Consider Third-Person Copy
Using third person copy can lead to higher click through rate because the language speaks to the customer and their specific needs. One way to utilize this in your own copy is by using reviews from your customers. Check out those Yelp or Facebook or Google My Business reviews and use some of them to show what people are saying or thinking. It's a unique way to position yourself as different from the rest of the pack.
Conclusion
There are literally hundreds of unique ways to market your business to stand out. The handful featured here may not all be gold for you and your business, but we hope some of them make a difference. If nothing else, you have a place to start. Consider how to combine or tweak these tips to work best for your industry and location. Advertising is hard work but it can also be a fun and creative pursuit. We hope to help you make it both while also ensuring views and page clicks come to you. So give some of these tips a try and see how they work for you. If you come up with some even more unique ideas, let us know!